Raleigh Hills Beard's Framing
Store Hours
Monday-Friday: 10-7
Saturday: 10-6
Sunday: 11-5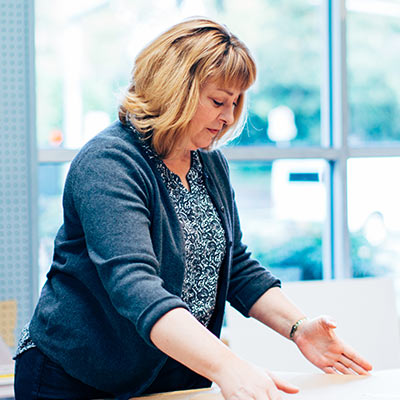 Behind the Scenes
Manager Kris Gruber, who's worked for NW Framing since 1992, describes the store.
The most unusual thing we've framed…
One of the best perks of our job is framing art and objects from around the world. There are so many projects it is hard to name any one in particular! We've framed Buddhist prayer books from Thailand, decorative headdresses and masks from Africa, exquisite silk rugs from Turkey, paintings on feathers from Costa Rica, Aboriginal dot paintings from Australia, a letter from Buckingham Palace, a very small original Mark Rothko painting, and even a rivet from the San Francisco Golden Gate Bridge. We never know what will come in next!
Our store in 5 words or less…
Inviting. Collaborative. Creative. Thoughtful. Fun!
What we've been listening to lately…
We're super into the 80s era right now. If you come in quietly, you might catch us doing karaoke while framing in the back room.
How we participate in the arts community…
We pride ourselves on being our local neighborhood frame shop, and value each and every piece we work on, and the clients who bring them to us. We love supporting our neighborhood events and school auctions, as well as spreading the word with local artist's special events. How can we help you incorporate art into your everyday world?