Madison Park Museum Quality Framing
Store Hours
Monday-Friday: 10-6
Saturday: 10-6
Sunday: Closed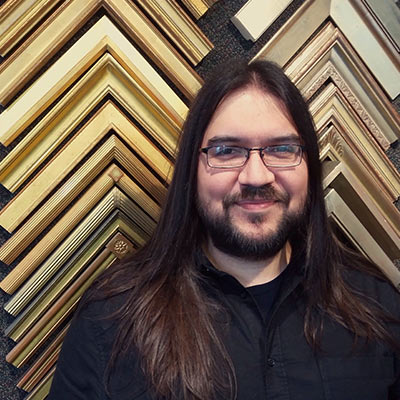 Behind the Scenes
Manager Ramon Deslauriers, who's worked for NW Framing since 2010, describes the store.
The most unusual thing we've framed…
There's no way to narrow down to one, but off hand, we had the honor of framing a variety of items that belonged to a WWII POW. Items included family photos, letters to the spouse back home, military correspondents, military medals & ribbons and the escapee's prison ID tag with the twine cord still attached.
Our store in 5 words or less…
Friendly, professional, creative problem solvers.
What we've been listening to…
Right now it's Gorillaz's Humanz album.
How we participate in the arts community…
We have an annual art walk, exhibit local artists, support local school auctions and recently we've been working with Art Not Terminal, a non-profit artist run gallery at the Seattle Center.