Lloyd Center Beard's Framing
Store Hours
Monday-Friday: 10-9
Saturday: 10-9
Sunday: 11-6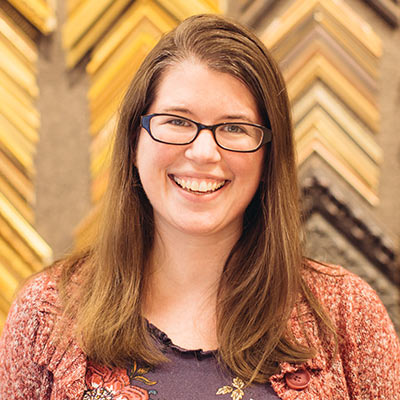 Behind the Scenes
Manager Rachel Jennings, who's worked for NW Framing since 2014, describes the store.
The most unusual thing we've framed…
Rachel: I built a shadow box for a 16″ tall porcelain doll that was over 100 years old.
Ariston: I had the exquisite pleasure of seeing two original Salvador Dali sketches come into the store.
Bahar: Glenn Danzig's glove and Lance Armstrong's cycling shoe.
Our store in 5 words or less…
Rachel: Providing fun, professional art experiences.
Ariston: Gentle, soothing, blissful, life changing.
Bahar: Friendly, knowledgeable, creative.
What we're listening to lately…
Our current Pandora shuffle has included Yelle, Kyle Kraft, and Tame Impala.
How we participate in the arts community…
Rachel: We help local schools frame children's art for auctions, work with artists to print and frame for exhibitions, and our presence in the mall helps expose a younger crowd to art.
Ariston: By creating art ourselves.
Bahar: I have always been involved in various art groups and have had artist showings in the store in addition to being an artist myself.