If you're any sort of lover of art, then chances are you've seen and appreciated the work of Gustav Klimt. His seminal painting The Kiss is one of the most popular prints in production, and has been replicated on everything from post cards to kitchen magnets.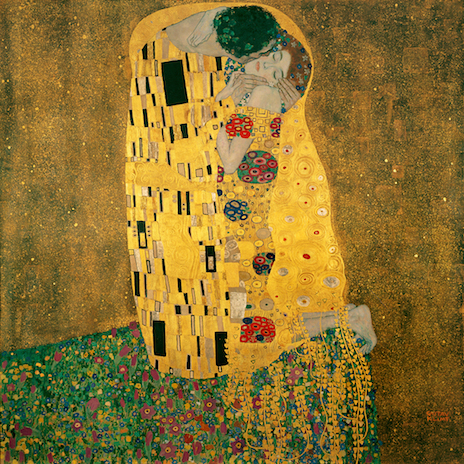 We've framed quite a few Klimt prints ourselves, and his golden masterpieces are timeless and attractive in a nearly universal way. Any Klimt fans will know what to see in theaters on their next date night though, as the new release of Woman in Gold, starring Ryan Reynolds and Helen Mirren, delves into the startlingly vivid story of Klimt's other most famous work, his Portrait of Adele Bloch-Bauer. This record-breaking and priceless 1907 painting from Klimt's golden phase not only inspired Woman in Gold, but holds more history than anyone might have imagined.
Adele and the Artist
The portrait in question was painted in 1907, commissioned by the sugar magnate Ferdinand Bloch-Bauer of his high-society wife Adele, a Viennese salon lady with close ties to the art world. Adele is the only subject who Klimt ever painted two portraits of, and it was rumored that the two might even have been lovers. Klimt took three years to finish the gold-embossed, Byzantine masterpiece, which came to be heralded as the final piece of his iconic Golden Phase. Tragically, Adele died young, succumbing to meningitis in 1925, although leaving behind a will that specified that her Klimt pieces should be left to Austria upon the death of her husband.
Nazis
During this period, a more ominous force was rising on the world stage, and the specter of Nazi horror soon began to eclipse Europe, particularly its Jewish population, who the Bloch-Bauers belonged to. By 1938 Hitler's power was unrivaled throughout the Prussian lands, and when he annexed Austria, the widowed Ferdinand was forced to flee for Switzerland, abandoning his wife's portrait in the process. The Nazis seized Klimt's paintings, and they ultimately came to hang in the Belvedere Gallery, where Adele's portrait was soon to be known as Woman in Gold, in order to disguise its muse's Jewish heritage. Over the course of the 20th century this piece of stolen history came to be known as Austria's Mona Lisa. That is until Adele's niece, Maria Altmann, by then in her 80's and living in Los Angeles, decided that the truth of the story must be told.
Legal Battle
It was in the 1990's, as Austria was finally beginning to confront the terrible crimes of the Holocaust, that Maria learned her uncle had never given his wife's portrait to the Austrian state. After failing to negotiate with the Austrian authorities, during which time she offered to let them keep Adele's portrait on display, Maria filed suit in 2000 in order to restore ownership of the paintings to their rightful heirs. The Austrian government argued that because Adele had initially willed the paintings to the state upon the death of her husband, they were simply carrying out her final wishes, and pointed to the national pride that the portrait was imbued with as a symbol of Vienna's Golden Age. Uncertain whether or not she would survive to see the return of her aunt's portrait, Maria fought doggedly all the same for its return, and her determination is performed marvelously by Helen Mirren in Woman in Gold. Altmann argued that while her aunt may have willed the portrait to Austria, this was in the early 1920's, not the Nazi-gripped Austria that they ultimately were plundered by. Altmann said that Adele would never have agreed to give her portrait to a government who had caused the deaths of so many of her friends, family, and countrymen. She enlisted the help of a lawyer, E. Randol Schoenberg, played by Ryan Reynolds, and together the pair managed to achieve a binding arbitration by a panel of Austrian judges, who declared that Altmann was the rightful owner of the painting. Up until her passing in 2011, at the age of 94, Altmann, who was a Holocaust refugee herself, maintained that she did not seek the painting out of a desire for revenge or profit, but simply to keep alive the truth of her Aunt and Uncle's lives, and to tell the full story of her family.
Record Prices and Legacy
But the story of Adele's portrait was not finished yet. The painting would come to dominate headlines once more in 2006, when it was sold for a reportedly record shattering $135 million dollars in a private sale through Christie's Auction House. Up until this point, the old record holder was Picasso's Rose Period masterpiece Boy with a Pipe, which sold for $104 million in 2004. Not only did the sale of the portrait make it the most expensive painting on earth at the time, but in many ways it also revolutionized the way the art world viewed Klimt as an artist altogether. For many decades, the highbrow, post-modernist art world looked upon the decorative emotionality of Klimt's work as second-rate ornamentation, but the sale of Adele's portrait finally cemented Klimt's reputation as a fully-fledged modern master. Ronald Lauder, the heir to the Estee Lauder fortune, was the recipient of the piece, and he now houses and displays it in his Neue Galerie in New York City.
The story of Klimt's masterpiece of portraiture, and Adele's determined heirs, is the sort of lore upon which art world legends are made. To bring a piece of Klimt's artistry to your home, visit one of our frame shops today.