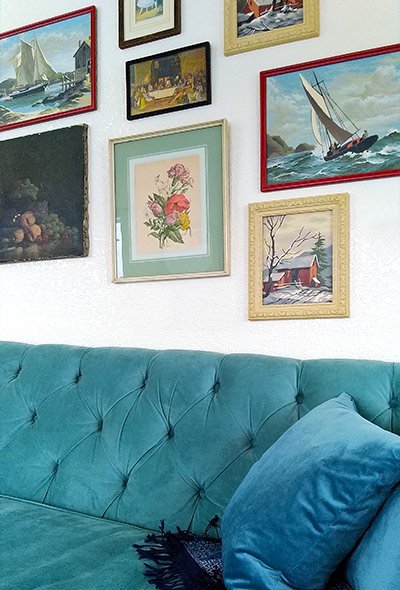 We've been talking about gallery walls a lot here in Frameland because they're so popular, but can also be hard to get right.
A colleague recently created a gallery wall in her living room (right). She remarked afterward that if she had done more advance planning, her walls probably wouldn't look like they've been attacked by a flock of tiny woodpeckers.
We've assembled some tips and tricks to help you have a more successful experience!
Find a Theme
Unless you're aiming for an eclectic, bohemian wall full of mismatched pieces, in which case you don't need a guide, you probably want to start by choosing a theme based on color, art type or other unifying element.
Photo from House and Garden UK
Color
Color can be intimidating, but you really only have to focus on one. In the living room shown on the left, the art all shares a similar shade of green, which is then also brought out with other decor items like the pillows.
You can take it further by developing a color palette, such as the blues, greens and grays in this room. But you don't have to learn your color wheel to get this sophisticated. Online tools like Pictaculous will give you a palette based on the colors in an image you've uploaded.
If you're stumped by color combinations, you'll probably find neutrals easier. Below left, interior designer Lauren Liess unifies a couple dozen pieces with tan and brown framing. On the right, black and white ties different art styles together.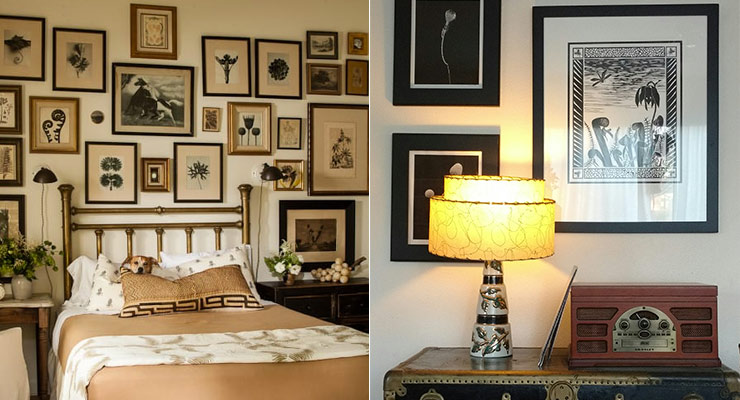 Left: Neutral gallery wall by Lauren Liess. Right: Photo courtesy of Sarah Burns.
Art Style & Medium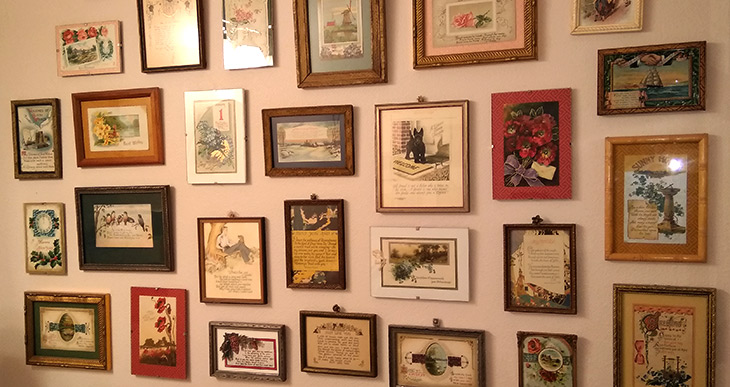 Photo courtesy of Lynnette Davis.
For an instant "collection," choose art of the same type. This could be all vintage greeting cards like those shown above, all photographs, or all musical objects – the options are nearly limitless.
Framing
Using frames of similar colors or styles, for instance all black or all gold frames, is a great tool to unify the collection. Mat color can also be used. Your friendly neighborhood frame shop is here to help solve this problem!
Arrangement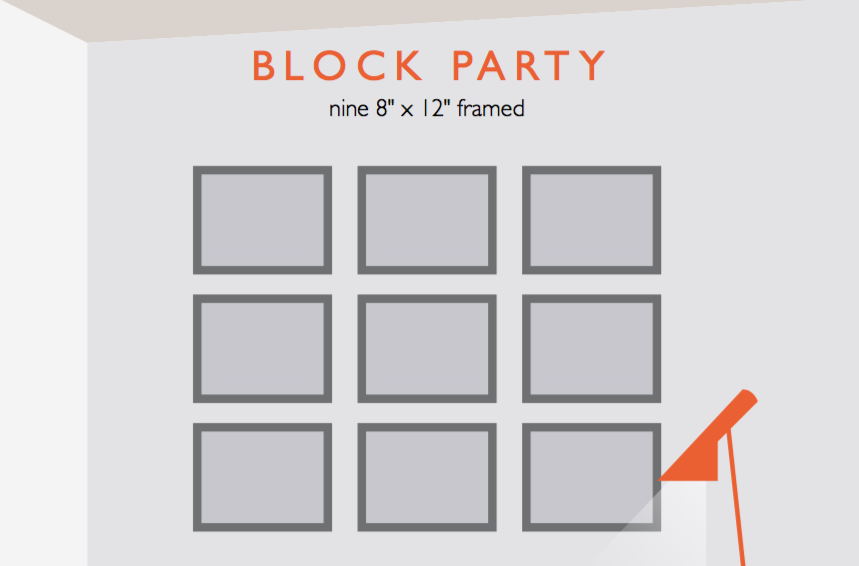 Download these templates for easy arrangement ideas.
Place one large piece in the middle of several much smaller pieces, as an anchor. Or, choose pieces that are all similar in size.
The Mechanics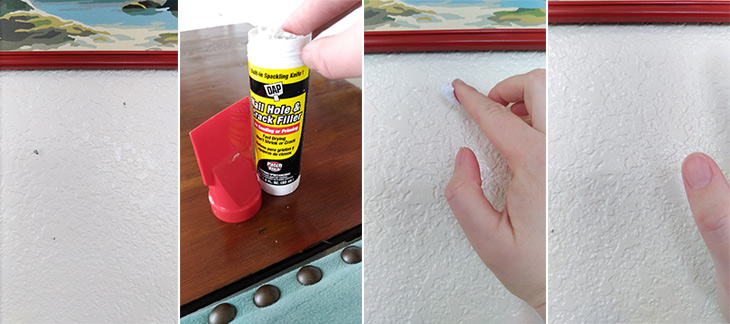 Let's remember two things: You may have to fill a few holes, but you won't ruin your walls. Shown above, applying filler is an affordable and quick solution.
Two: There is very little mystery to whether you've hung something securely or not. Jiggle it. Unless you're hanging a large piece of taxidermy, or your toddler can climb ladders, you're probably going to be okay. Here's some additional insight into the art of hanging a gallery wall:
Interior Design firm Studio McGee offers tips on spacing and height on the wall.
The Art of Manliness offers helpful tips on hardware and hanging.
Hanging art on different wall surfaces? Here are notes from Architectural Digest for homes with brick, tile and plaster walls.
Hopefully this will help you get started on your own wall… and remember that, ultimately, the only rule that matters is that you like how it looks.