Guide to Custom Framing

What to Expect During the Design Process
Whether you are an experienced designer or a first-time framer, the process is both fun and engaging. Our designer's primary objective is to present a framing solution that becomes an extension of your art without ever distracting from that art. That solution will be something that you co-create with your designer, always ending with a project that you will absolutely love. Guaranteed.
---
About Framing Components
Moulding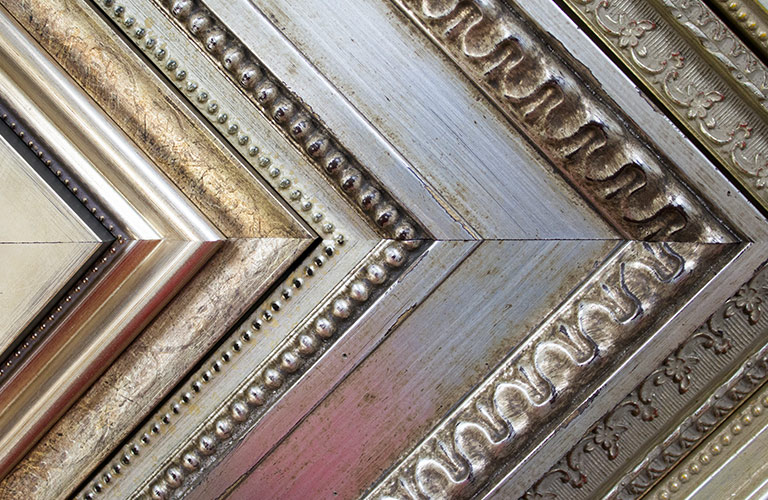 Our goal is to select moulding that will enhance your art rather than overshadow it. You will find an unsurpassed collection of moulding styles in our stores. Working with the world's top manufacturers, we are able to present the highest quality traditional, contemporary and transitional styles available.
For those who want the ultimate in handcrafted, old world artistry, we can even have a frame built to your exacting specifications by hand carving the wood, using 24 karat gold leaf and various colors of clay beneath the leafing to bring out the perfect highlights for your décor.
Maybe your art would appreciate being surrounded by recycled or reclaimed framing materials like patinaed metal, welded steel or old barn wood. We can do that.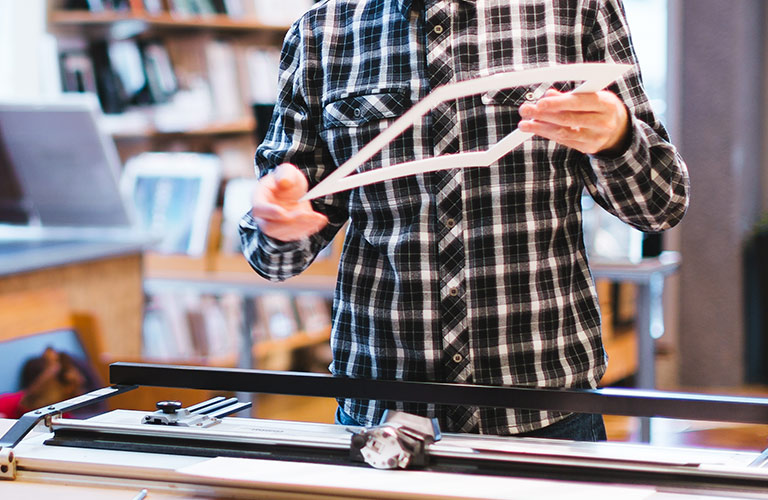 Mats
The primary goal of matting is to protect artwork, creating a cushion of preservation inside the frame. Also important is that a mat provides visual focus, drawing the eye to the artwork and enhancing the overall design based on the color and texture. From a practical perspective, if art is simply placed in a frame, the lip of the frame can cover up as much as 1/2″ of the artwork. Using a mat allows more of the art to show and creates visual relief between the art and the frame.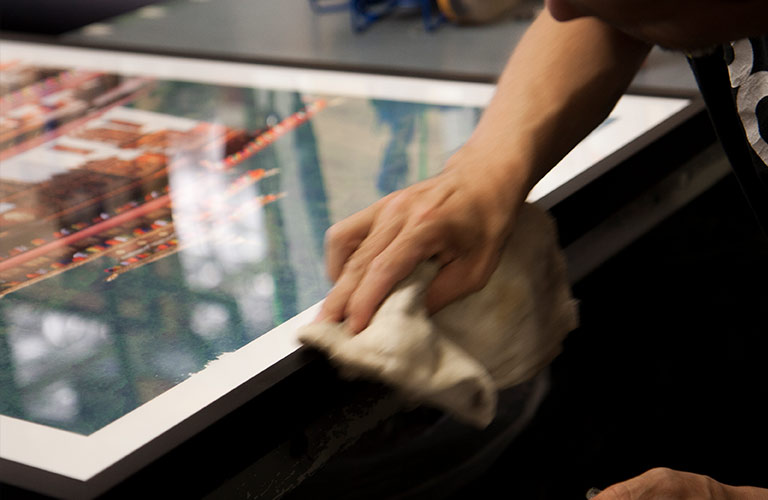 Glass
No conservation products will preserve your art if we use regular glass on the project. Nothing is more quickly damaging to printed art than UV rays, whether from the sun or interior lighting.
In our Beard's and Museum Quality Framing stores, only conservation grade, UV protecting glass is used. While 90% of the time we also use UV glass in our Frame Central stores, regular glass is available for the price sensitive projects where the art won't require long lasting color retention.
Archival
We offer a full spectrum of archival solutions and materials whether your project is fine art, a family heirloom, or a treasured child's drawing. We can also pop a poster into a frame for you. It's really all about how long you want your art to be protected from the elements and how long you would like to preserve it.
Sustainable
Many of our custom mouldings are FSC certified. We offer materials and techniques that are on the cutting edge of the custom framing industry and we are always searching for new eco-conscious materials that represent our commitment to conservation and sustainability. We even offer frames that are created from recycled materials and quickly renewable resources like bamboo.
Price Friendly
From readymade frames to custom hand carved and gold leafed frames, there is no budget that is too small or too grand. We are thrilled to work at either end of the spectrum or anywhere in between. Whatever you choose, we have done the work to ensure that you won't find a better price for the same products and services anywhere. Also Guaranteed.

To preserve it, display it and enjoy it — frame it!